| | |
| --- | --- |
| | Beauty Treatments |




Le Salon
123 Main Street
Anytown, NY 20317
USA
(212) 555-4321
(212) 555-1234 fax

Send Us

E-mail

© Copyright 2011
Le Salon
powered by Website2Go.com
All Rights Reserved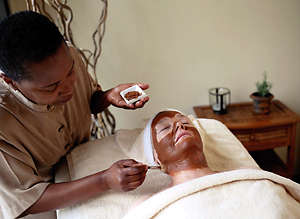 Le Salon is well-known for beauty treatments, for discerning individuals, professionals and groups. Please call 212-555-4321 for more information on these and other services:

Beauty Neuve Treatment
A scientifically researched Guinot Fruit Acid and Enzyme treatment which combines a double peeling action, which causes exfoliation of the skin together with a regenerative effect. Suitable for all skin types. $25.00

Les Aromatic
The Aromatherapy trio of treatments that will relax the mind and leave the complexion radiant with 18 plant extracts and essential oils. 1 hr. $25.00

Non-Surgical Face Lift
A therapeutic skin revitalization program, smoothes out wrinkles and produces radiance and skin tone. Used by the rich and famous with fantastic results, now available for everyone! $30.00

Vogue Luxury Top to Toe
Full body Detoxifying Treatment, Aromatherapy Facial, Make-up Lesson, Manicure or Pedicure. Clean warm towels and orange juice provided. $49.95

Weddings
We are specialists in wedding make-up and would be delighted to come to your home on the morning of your wedding. Please call 212-555-4321 for more information.

Vogue Make-up Lessons
3/4 hr $19.95





Issue du Jour: Acne!
Acne is a common skin condition which consists of blackheads, whiteheads, red spots, and sometimes deeper boil-like lesions called nodules or cysts. The problem sometimes continues into adulthood. It develops in the oil-producing structures of the skin called pilosebaceous follicles, which are present in large quantities on the face, chest, upper back and shoulders.

The exact cause is unknown. One theory is that when hormone levels increase, the skin of the acne prone person reacts by producing excess sebum (oils). Bacteria on the skin alter these oils to produce substances that cause acne. Hair follicles get plugged by dead skin cells, bacteria, hormones and sebum. Emotional stress, fatigue and cosmetics can aggravate acne.

There's no concrete evidence that food causes acne. Following the strictest diet will not by itself clear your acne. But some people find that their acne seem to worsen when they eat certain foods, particularly chocolates, fried food and chilies.

In terms of make-up: Avoid oily and greasy cosmetics. Use water-based, oil-free cosmetics sparingly. You can use eyeliners, eyeshadows and lipsticks. Ensure that cosmetics are washed off thoroughly with Zeta before going to bed.

If you have acne, treat it early. Waiting can be a serious mistake, since treatment can improve your appearance and prevent the development of scars. Never squeeze or scratch lesions, keep hands off the face as this can spread infection.

To clean your face, remove excess oil from the face by washing with a bactericidal skin soap. Wash frequently to remove excess oil and bacteria. Do not wash with harsh or high pH soaps.